Services
We specialize in fulfilling your vision. Want a low-maintenance yard? No problem. Want a tropical paradise in your backyard? We can do that too!

Delivery
Mulch & Soil Delivery
BJS Nursery offers fast professional delivery throughout service region. We have a full service fleet of walking-floor trailers that can deliver up to 100 yards of mulch. We specialize in bulk delivery. Each load is consistent and measured by the cubic yard, not per "truck load".

BJS understand the importance of keeping our customers well stocked. We maintain large quantities of raw materials insuring meeting our customers' demands. We maintain the most dependable fleet of trucks in the industry. Our in-house dispatcher ensures customers receive orders promptly. BJS delivery fleet is late-model day cab trucks providing highest capacities per load.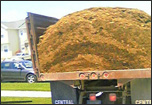 Our trucks deliver aggregates, mulches and soils, placing product in one designated area. Dump trucks, especially when loaded, may leave ruts in the ground or become stuck when off road. A driveway is the preferred dump location in most cases. Normal deliveries of Pine Straw bales in our dump trucks will be dropped, not stacked.
Delivery fees